Attention Pay-As-You-Go (PAYG) Jumpers
PUBLIC JUMPING
Current members can come in to get extra time working on their existing skills or rookie bouncers can come in to see what our sport is all about. As a member club of Gymnastics Ontario (GO), guest athletes are required to pay a $25 GO Insurance fee after their 3rd trial jump.
Vertical Zone Trampoline Club is NOT a trampoline park or indoor playground. We are a trampoline training facility, governed by Gymnastics Ontario policies and staffed with coaches who are trained in accordance with the National Coaching Certification Program (NCCP). It is our goal to provide an environment that is as safe as possible. Therefore there are rules for public jumpers which are noted below. We also suggest that you call (705-794-5867) or email contact@verticalzone.ca in-advance to book your time.
PAY AS YOU GO (PAYG) // DROP-IN VISITORS
Member* pricing: $15 for an hour, $10 for a 1/2 hour. Any day. Members are also entitled to bring one (1) friend at the member price.
10 JUMP CARDS: Pay for 9 jumps, get 1 free, at member pricing!
$135 (+HST)
If you are not already a member, your first card after July 1st will have an additional $25 fee charged for the GO membership.
NON-MEMBER PRICING:
| | | |
| --- | --- | --- |
| | 1 Hour | 1/2 Hour |
| Weekdays |  $   17.50 |  $   11.00 |
| Weekends & Holidays |  $   19.50 |  $   12.50 |
* Members are those who have paid the GO Insurance fee.
It is recommended that you call ahead to reserve a trampoline for PAYG jumping. Recommended 2 jumpers/trampoline.
We will not accept PAYG reservations more than 5 days in advance of the weekend.  Additional trampolines can be reserved if available for same day reservations.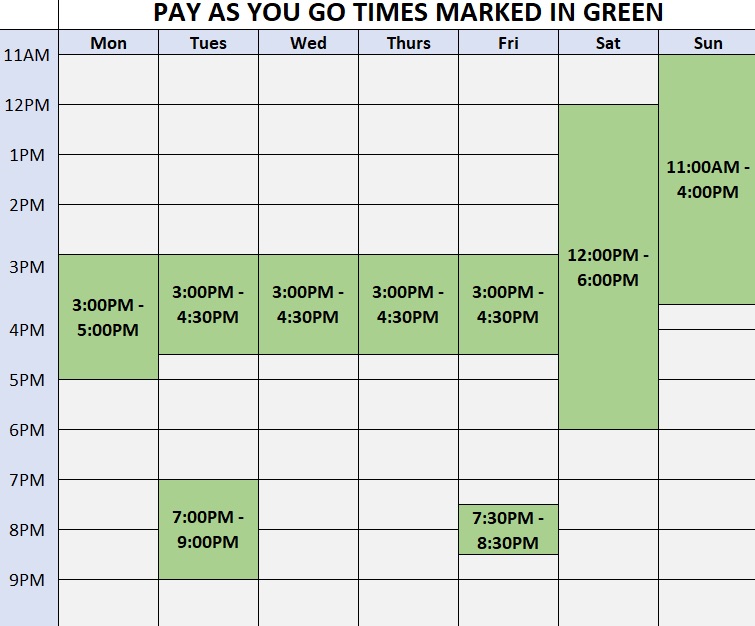 To book your public jumping call 705-794-JUMP (5867) or email us (contact@verticalzone.ca) for more info.
The following skills MAY be practiced after a thorough assessment by a NCCP level 2 coach and under their direct supervision:
· Maximum of 1 forward or backward rotation (360°) allowed with coach permission and supervision
· Maximum of 180° inverted twists allowed with coach permission and supervision
The following skills are NOT ALLOWED during Public Jump bookings:
· NO full, 1 ½, double + inverted twists (e.g. NO Fulls, Rudy's, Randy's, etc)
· NO 1 ¼, 1 ½, double + rotations, front and back
· NO off axis skills (e.g. NO corkscrews, or other snow/ skateboard tricks).
Public Jumpers caught attempting any prohibited skills, will be removed from the trampoline immediately, as per posted trampoline rules.
RECREATION CLASSES
These classes follow a lesson plan book that allows the athletes to start with basic skills and progresses through to difficult inversions and twists. Each athlete progresses through their book at their own pace.
COMPETITIVE CLASSES
These classes are broken into 3 groups: Inter-club (pre-competitive), Provincial and National level classes. The Inter-club classes are similar to the Recreational classes but have an additional focus on executing routines and give the athlete the opportunity to compete.
FREQUENTLY ASKED QUESTIONS
What should my child wear to train at Vertical Zone?
All athletes who jump at Vertical Zone must wear suitable gym attire. Children should wear 1 piece gymnastics leotards and/or lycra or cotton shorts and a properly sized T-shirt. No zippers, ballet skirts or loose-fitting clothing are permitted. Long hair must be tied back. Dangling earrings, bracelets, watches, anklets, rings, or necklaces should be left at home. Athletes are barefoot or wear socks in the gym. Open wounds or warts must be bandaged with athletic tape and socks must be worn.
If I miss a recreational class, do I get a make-up class?
If Vertical Zone cancels classes due to unforeseen circumstances, we will provide make up classes for those athletes affected by the cancellation. If your athlete misses a class for personal reasons, there will be no make-up class, as our programs are purposefully scheduled and staffed according to registrations.
Can I just drop in to jump on a trampoline?
We strongly recommend that you call ahead to reserve trampoline time. Availability is limited, due to prioritizing time and space for recreational and competitive programs.
What is a GO fee?
As a member club of Gymnastics Ontario (GO), we are required to pay additional insurance fees directly to GO. These fees protect the athlete and club by providing additional insurance if necessary. Being a GO accredited club insures your athletes are being coached by trained National Coaching Certification Program (NCCP) coaches. Below is the link to Gymnastics Ontario website that explains what the Membership Fee covers.
http://www.gymnasticsontario.ca/insurance/
Can I leave the gym, once I've dropped my athlete off for a recreational class or public jump booking?
Parents must remain at Vertical Zone for athletes 4 years and younger, or for any athletes who will require assistance going to the bathroom. For safety reasons, our coaches will not leave their group unsupervised, and there are rarely additional staff available to provide 2-1, staff-camper, supervision required when managing personal care issues. For public jumpers, we request parents and caregivers remain at the gym in case of emergency.
My athlete is progressing very well in their recreational class and is interested in competing. How can my athlete join Vertical Zone's competitive team?
Competitive team tryouts usually occur in the summer. However, you can email our Head Coach, Allison Mackay (allison@verticalzone.ca) to inquire about a tryout at anytime. If there is still space on the competitive team, Allison will book a tryout time for your athlete. When the competitive team is full, there are Elite Recreational classes for those athletes who are waitlisted for competition opportunities.
Are there subsidies available for my child to participate in your recreational programs?
Vertical Zone is committed to creating a fun, fitness experience while learning the fundamentals of trampoline.
*Vertical Zone is not responsible for availability or eligibility of any third-party funding agencies. Registrations cannot be held without payment in full. All registrations, regardless of funding source are subject to Vertical Zone's refund policy.